How to Make your Photos Private on Facebook 2015 – Video
As seen at Youtube – view & share – http://bit.ly/FbPhotoPrivacySettings

Click here for – Sociabot Software
Free Traffic Guide- http://www.imsocialmediatraffic.com
=========================================================
Facebook Privacy policies have changed recently
My Video shows how easy it is now to change from
default "Public"to optional "Friends," "Only Me" or Customise.
In the demonstration I use a Photo of Sociabot Software
Automated FaceBook and Twitter Posting With Sociabot Software
You could setup an entire year's worth of FaceBook
posts and Twitter updates by tonight.
This is the amazing new system that lets you do exactly that:
We all know that FaceBook, Twitter and social media is important.
What if you could get the best of both worlds?
Here's a short list of what this software can do:
– Connect unlimited FaceBook accounts
– Connect unlimited FaceBook pages
– Connect unlimited Twitter accounts
– Create automated status updates
– Create automated image / video posts
– Truly "set and forget" system
– Works with affiliate links too
– Perfect for newbies or experts
– Full video tutorials provided
Here is a link to see a video showing the Features of Sociabot …
Click here to view – Sociabot Software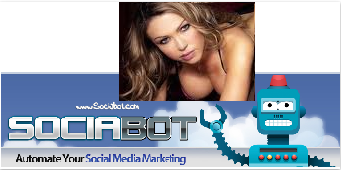 ==========================================================
Here is the full Transcribed Text for my video –
How to Make your Photos Private on Fb 2015
Transcript – Facebook has just made it possible to change the Privacy settings of your Fb cover photo, your Profile picture & the photos on your Timeline.
First of all click on settings. On your Settings Page look at Post Attributions & go across to Targeting & Privacy for Posts. Check that Targeting & Privacy for Posts is turned on for my Page. Click Edit if you need to check this box to allow Targeting & Privacy options & then Save Changes. Back at my Fb Page, if I wish to change the Privacy Options of my Cover Photo, I just click the Cover Photo & down at the bottom here I click Share. Here is a box which is showing Public. I'll click the Down arrow & I'll have More Options. I can choose Public, Friends, Only Me or Customise. The same applies if I click on my Profile Image. I click Share, I have the same options available. I click Photos. I choose this photo to click on. I see the same Share button to click. The photo is Public. I click the down button. More options, There's Public, Friends, Only Me or customize again.
Just as a matter of interest, Sociabot Software automates your Fb & Twiter posting. You can set up a year's worth of Fb posts & Twitter updates by tonight. It's an amazing new system which lets you do exactly that. We all know that Fb, Twitter & social media is important but what if you want the best of both worlds?
Here's a short list of what this software can do. Connect unlimited Fb accounts, Fb Pages, Twitter accounts, Status updates, images/video posts. It's a truly "set & forget" system & it works with Affiliate links too. It's perfect for Newbies or Experts & full Video Tutorial is provided.
I'll put a link to Sociabot Software in the Description Box of this Video.
I trust this will be useful to you too.
================================================================
How to Instantly Maximize your income with Social Media networks
For your Free Social Media Traffic tips & strategies Guide –
Use this clickable link – http://www.imsocialmediatraffic.com
Click here for Social Media Traffic tips, strategies & a Free Guide



================================================================
THE NAUTICAL ORIGINS of Some Common Expressions ….
Cut and Run : Most often thought to mean the cutting of an anchor line
in an effort to make a quick getaway.
Hard to imagine that many ship's masters enjoyed routinely losing an
anchor or two, so it is probably more likely referring to the practice of
securing the sails of a square-rigged ship with rope yarns that could
easily be cut away when a quick departure was necessary.
If a captain of a smaller ship encountered a larger enemy vessel,
he might decide that discretion is the better part of valor,
and so he would order the crew to cut the lashings on all the sails
and run away before the wind.
Other sources indicate "Cut and Run" meant to cut the
anchor cable and sail off in a hurry.
To depart in a hurry. To accept one's losses and get out.
How to Make your Photos Private on Fb 2015