Here is my Video – How to Restore the Volume Icon to Your Task Bar
As seen at Youtube –  http://bit.ly/RestoreVolumeIcon

For your Free Social Media Traffic Guide
go to my website – http://www.imsocialmediatraffic.com
——————————————————————————–
When my Internet Explorer & my external storage device failed,
the shop I went to for repair were needing 2 days & a big fee
but I was able to fix it myself & got going again same afternoon.
It's a lot easier when the mystery is taken out of the works.
You might even start your own business – there's big demand.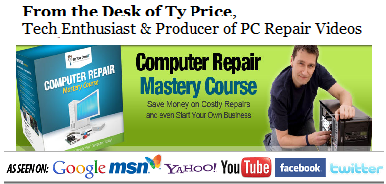 Click here for Ty Price's solution
to your Fix-it problem – Repair Computer
———————————————————————–
Here is the text I wrote for my Video –
How to Restore the Volume Icon to Your Task Bar
Last week after a Windows Update, I found my Volume Icon has disappeared from my screen. This Icon brings up the Volume Control. After looking on the web to find advice as to how to restore it & finding nothing to suit my Windows System, I worked out a way I could do it from my own laptop.
I clicked on the Start Button & typed into the All Programs box – "Volume" & at the very top of the list, there was "Show or Hide volume (speaker) icon on the Taskbar" – so I clicked on that & I found that this Volume was already on but I went to "Restore Icon default behaviour" Pressed Ok & when I went down to the right hand corner of my Taskbar, I found the Icon was already established & functioning as well as ever.
I trust that is of use to you & I hope you don't lose your sound/volume control in the 1st place but if it does – that worked for me & I hope it does for you too.
————————————————————-
For your Free Social Media Traffic tips & strategies Guide –
Use this clickable link – http://www.imsocialmediatraffic.com
Click here for Social Media Traffic tips, strategies & a Free Guide



——————————————————————————
THE NAUTICAL ORIGINS of Some Common Expressions …
Kites : In general, the highest and lightest sails set above royals,
such as skysails, moonsails and stargazers; also royal and topgallant studding sails.
These days we use the name spinnaker as well as Kite for that biggest sail